Shopping Cart
Your Cart is Empty
There was an error with PayPal
Click here to try again
Thank you for your business!
You should be receiving an order confirmation from Paypal shortly.
Exit Shopping Cart
Sara Moore, Psychic Medium for People & Pets
Today I had six readings and my son had no summer camp, which made things very interesting.  I spent the first part of the day in the office with face to face clients and then the rest doing phone readings from home.  After my third reading Z said he wanted to rearrange the living room, which has looked almost exactly the same for close to 16 years.  Sure stuff has been removed and added but for the most part the lights, couches, bookshelves, bakers rack and carpet have remained the same.  I guess my tuned in little man felt it was time to mix things up and I couldn't think of a reason why he shouldn't.
So here's the interesting thing that's been wiggling around in the back of my head all day.  When we decided we wanted a baby, I rearranged my bedroom and burned my old journals.  I figured that if it actually worked I didn't want any offspring learning about any of my old..... escapades....  I also thought that becoming a parent was such a huge shift that I'd just let the universe know I was ready by clearing the slate and starting fresh.  Z was conceived on the first month of trying.  YIKES!
Today I came downstairs between readings to see everything from the bookshelves in exceptionally sloppy "piles".  The couches were moved around and Z had a very clear idea how how he wanted the room to look.  So after six readings and getting debriefed on his master plan, we blasted the music and got to work.  We'd move something, vacuum, shuffle, sweat, and vacuum again.  In essence I was vacumming up my past.  My married time in this house, my divorced time in this house.  It was all getting cleared.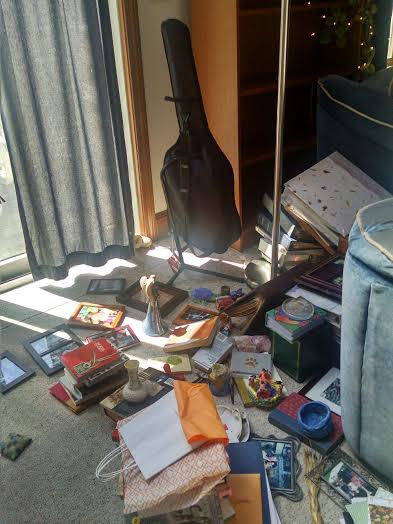 Oh, I like that thought!  We sucked up my past and the things that needed to go have already been dumped in the trash.  It doesn't mean I didn't honor the stuff I found.  I now could open a store and sell the absurd amount of cat toys that had found their way into the crevices I didn't know even existed. I found all of my missing chapsticks and pens tucked under the heater behind the couch.  (Shout out to the Beagle Karma and cats for that)  I also spent over 10 minutes removing a fishing bobber from the vacuum extension when Z accidentally sucked it up.  I was grateful he was vacuuming, so I didn't get angry.  I did get highly frustrated, though, and was pretty psyched I had duct tape and a lobster picker thing to wiggle it free.




As I sit in my "new" home I am wondering whats in store after as a result of the rearranging.  My house is clean.  It's different than it's ever been before. It's comfortable but totally different.  Some things are going to have to get tweaked but there's no way in hell I'm taking on that task right now.  The last time I did this I had a child and I can tell you with 100% certainty that will NOT be the outcome this time, but it's definitely the start of something new! 




I guess I've felt something stirring already because readings this week have been beyond intense and have shifted to a higher vibration.  My eyes and my heart are open. I trust that amazing things are brewing, and are already within reach.  Bring it on universe.  I'm ready. 





Categories: None

0

/